Boutique Palm Beach Lures Developers
Plans for a nine-storey apartment tower one block back from Palm Beach, with arches to rival the leaning tower of Pisa, have been lodged with the Gold Coast City Council.
An ageing brick apartment complex would make way for a 23-apartment tower on the 817sq m site at 1199 Gold Coast Highway under the proposal from Jefferson Lane Developments Pty Ltd, a business registered to Gold Coast local Brent Freeman.
The tower, designed by Raunik Design Group Architects, would comprise 13 two-bedroom apartments and 10 three-bedroom apartments.
The nine-storey tower, to be called Saltwater, would also include two basement levels for 38 carparking spaces.
It's the latest in a slew of proposed apartment towers in the emerging Palm Beach market on the Gold Coast, where medium-rise boutique developments are cropping up.
According to planning documents, the ground floor would include communal open space with a pool and spa, an outdoor lounge area, yoga room and gymnasium, as well as two ground-floor apartments.
"The design accommodates the proposed apartments within a medium-rise tower form embracing south-east Queensland sub-tropical design influences," the planning report stated.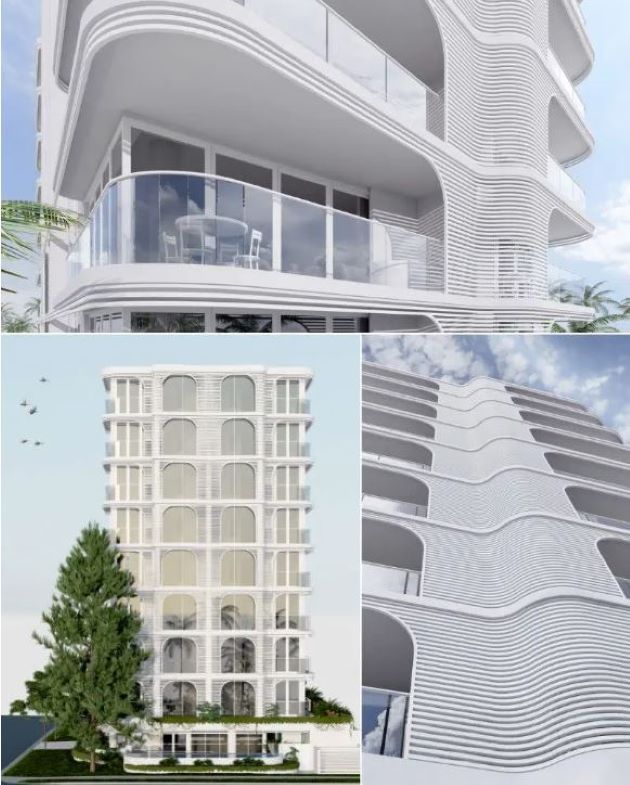 "The arrangement of indoor and outdoor living spaces provides a seamless transition with all apartments afforded good quality outdoor living spaces that benefit from roof cover for climate protection and views orientated north-east or south-east to take advantage of the surrounding coastal setting."
The corner site has three street frontages and provides permeable activation along the Gold Coast Highway, according to the report, and is reportedly the developer's third acquisition in the Palm Beach area.
"The built form and architectural language of the development embraces a sub-tropical coastal design that is reflective of the surrounding Palm Beach locale, with expressive form and finishes embellished by a tiered landscape design that provides connectivity to all road frontages.
"The proposal will facilitate an increase in residential density that rejuvenates the site in an appropriate urban environment benefitted by ease of access to a range of community and social infrastructure and the nearby Palm Beach District Centre."
GV Property Group highlighted this site as a prime beachside corner location and approached the owners directly. GV Property director Antonio Mercuri said they amalgmated the site for the developer.
"We negotiated with the 6 individual owners for 2 months to finalise a deal," he said.
It's another vote of confidence for the resilience of the boutique Palm Beach market, following Brisbane-based developer Graya moving into the market with a luxury beachfront apartment block called Ripple, down the road.
Brothers Andrew and Rob Gray in partnership with Mike Walsh acquired two of the eight units in the existing brick apartment block 12 months ago for about $3 million at 2 Palm Beach Avenue, Palm Beach.
The developer has lodged plans with the Gold Coast City Council for the Plus Architecture designed Ripple, which will comprise 17 apartments and two two-storey beach houses at ground level on the 1730sq m site.
Graya managing director Rob Gray said while some developments were being paused or mothballed on the coast, he was confident in the Palm Beach market.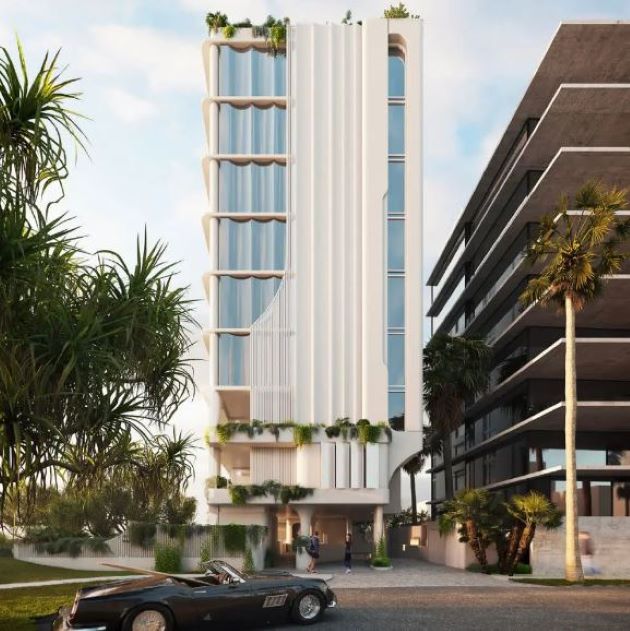 Another developer consortium is tapping the Palm Beach market with a collection of four-storey townhouses that will test the futuristic beach house concept.
Burgeoning Gold Coast developer Luke Vaughan has teamed with Australian construction executive Geoff Pontefract and Sri Lankan investor Buddika Kulasekara to develop seven four-storey townhouses on a Palm Beach site.
The trio has lodged plans for the development, to be called Jasmine on 24th, with the Gold Coast City Council. It is on just 810sq m across 9 and 11 Twenty Fourth Avenue at Palm Beach, through a put and call option.
Meanwhile an ambitious proposal for Australia's tallest tower, a landmark $400-million vertical neighbourhood at Southport, continues to divide public opinion. 
The two-tower development would comprise two slender supertowers—a 100-storey apartment building and a 60-storey office building.
It is earmarked for a vacant 1245sq m site at 1 and 6 Park Lane, next to the Southport bowls and tennis clubs, and would deliver 193 apartments and 12,693sq m of office space.
Article source: Queensland Property Investor
http://redcliffepropertymanagement.com/wp-content/uploads/2019/04/REDCLIFFE-PROPERTY-MANAGEMENT-LOGO-300x82.png
0
0
redlandspro
http://redcliffepropertymanagement.com/wp-content/uploads/2019/04/REDCLIFFE-PROPERTY-MANAGEMENT-LOGO-300x82.png
redlandspro
2022-09-22 00:31:47
2022-09-22 00:31:47
Boutique Palm Beach Lures Developers