Developer Locks in Builder for Third Gold Coast Tower
Brisbane-based developer S&S Projects has enlisted Hutchinson Builders to construct a $150-million apartment project in Coolangatta, its third such development in the area as local developers struggle with escalating construction costs and labour shortages.
The development group, led by Paul Gedoun, is bullish on breaking ground with its first two projects, Flow Residences and Awaken, advancing and its latest project, Esprit, now earmarked for completion in the first half of 2024.
"Our first two [Coolangatta] projects are considerably progressed," Gedoun said.
"We're excited to have Hutchinson Builders' Coolangatta team on our third development at Rainbow Bay. They are locals and employ locals and that is important to us."
The developers' 12-storey Esprit project, at 6432 Boundary Street in Rainbow Bay, has been designed by Cottee Parker Architects and will comprise 94 high-end apartments in two and three-bedroom configurations ranging from 109 to 215 square metres.
It also features wellness facilities including a gym, yoga lawn, private remedial treatment room, ice bath, infrared sauna, steam rooms and a 25-metre rooftop infinity pool.
As well as this S&S Projects has planned a large residents' recreational space— including a children's play lawn, private dining room, private terraces, barbecue areas and an outdoor cinema.
Since launching in September 2021, Pezet Matheson, the agency marketing the project's apartments, has clocked up $71 million in sales.
Gedoun said the final release of apartments, priced from $995,000 for two-bedroom apartments and from $1.95 million for three-bedroom residences, would hit the market shortly.
The Rainbow Bay project comes on the heels of the developers' $74-million Flow Residences and Awaken Residences, which set a record penthouse sale price of $8.15 million for the Coolangatta area in mid-2021.
Construction of Flow recently reached a milestone with the building topping out and edging closer to completion later this year, while construction is progressing at Awaken with the basement completed of the 12-storey project starting to take shape on a prime site at Point Danger.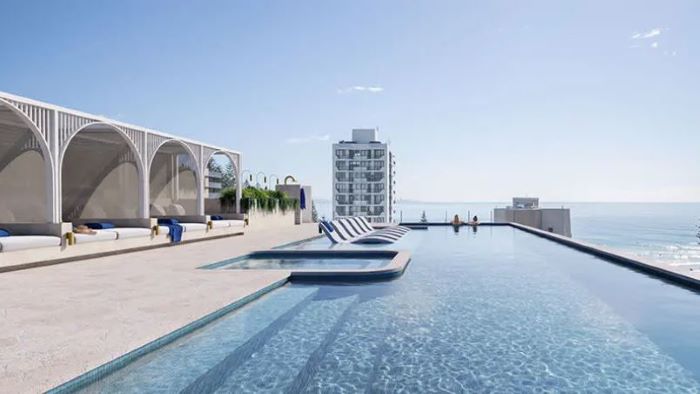 Building demand and supply chain issues have seen the cost of construction materials rise significantly in the past 12 months, with major firms including Condev and Probuild collapsing.
Gold Coast building costs rose 14.5 per cent last year and are expected to rise another 6.7 per cent this year.
In May, Melbourne-based developer Central Equity abandoned plans to build a $500 million apartment tower further north in Surfers Paradise over concerns that surging construction costs will make the project unprofitable.
Apartment sales have been booming in recent years, with prices skyrocketing and many new projects launching, however, the region has a limited pool of building firms compared with Sydney and Melbourne which has exacerbated surging construction costs and supply chain delays.
Pezet Matheson managing director Jayde Pezet, who is overseeing the Esprit campaign, said solid fundamentals still supported the residential construction market, particularly smaller scale developments and larger apartments aimed at owner-occupiers.
"As one of Queensland's largest construction companies, Hutchinson's are well equipped to ensure the viability of the project and navigate the challenges facing the industry at this time, which provides our buyers with peace of mind," Pezet said.
Not resting on its laurels, S&S Projects has another Gold Coast project in the works—a 23-storey tower will be split into hotel rooms and apartments on the corner of Palm Beach Avenue and 1128-1132 Gold Coast Highway, Palm Beach.
Similarly designed by Cottee Parker Architects, the project includes 150 hotel apartments and 40 residential apartments. If realised, it would be the tallest modern tower in Palm Beach.
Article source: Queensland Property Investor
http://redcliffepropertymanagement.com/wp-content/uploads/2019/04/REDCLIFFE-PROPERTY-MANAGEMENT-LOGO-300x82.png
0
0
redlandspro
http://redcliffepropertymanagement.com/wp-content/uploads/2019/04/REDCLIFFE-PROPERTY-MANAGEMENT-LOGO-300x82.png
redlandspro
2022-10-07 00:25:17
2022-10-07 00:25:17
Developer Locks in Builder for Third Gold Coast Tower