Developers Plot Skinny Tower on House-Sized Block
Vaun Developments has filed plans for its latest apartment development, a 20-storey eight apartment tower in the heart of Chevron Island on the Gold Coast.
The eight two-floor apartments are spread across 16 levels, with parking, recreational amenity and a private rooftop pool for the penthouse in Aurum.
The Plus Architecture-designed skinny tower is planned for the 506sq m block at 45 Darrambal Street at Surfers Paradise, which Vaun Developments' Luke Vaughan said would create something next level on the site.
Vaughan said the property would comprise a double height lobby and two floors of luxury amenities, including a wet deck with pool, spa, steam room and ice baths, and a dry deck with a gymnasium, yoga studio and plans for a Himalayan salt wall.
Vaughan is developing it alongside construction industry stalwart Geoff Pontefract, whose expertise was invaluable as they grappled with the skinny site.
The eight double-floor apartments would appeal to downsizers and well-heeled professionals, according to Vaughan, who said the building could have an end value of about $50 million.
"We were really excited by the north-eastern aspect and took advantage of the Manhattan-style views of Surfers Paradise," Vaughan said.
"We started off with full-floor apartments but it just seemed too average, we really want to dial it up. These are villa-sized true skyhomes.
"We've drawn from a lot of the features that are being offered in six-star resorts, and decided to incorporate it into our development, but the amenities are purely for the residents of the eight apartments."
Vaughan said the Gold Coast's luxury apartment market remained robust in the face of a simmering housing market.
The development application comes hot on the heels of another the group filed this year for futuristic-style beach houses further south at Palm Beach.
The site neighbours Siera Group's $75-million Tapestry development on Chevron Island. It has a 15m frontage and a depth of about 33m and setback controls on the site mean the tower will be a slender form.
Planners say the Chevron Island area is ripe for renewal.
"While the current predominant established character of Chevron Island is that of mostly older, one to two-storey dwellings, duplexes and multi-unit buildings, there is a clear emerging character of larger more intense development built forms," planning documents said.
"[This is] demonstrated through the above approvals which are supported by the unlimited building height and excellent proximity to key services and public transport."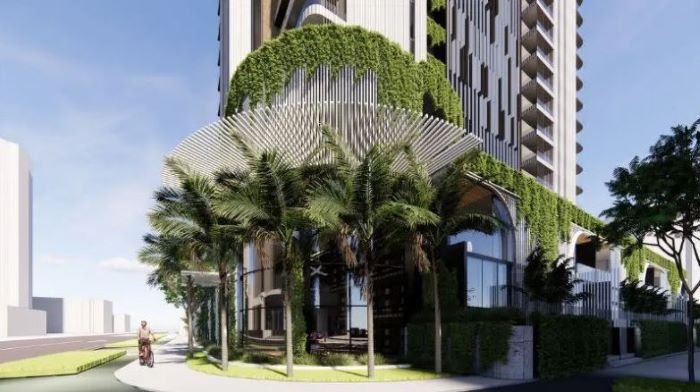 Meanwhile, down the road, MRCB has won approval for its $300-million 51-storey tower at 26 Vista Street.
MRCB International chief executive Ravi Krishnan said the project would "enhance the city skyline" while boosting apartment supply that would cater to ongoing interstate migration to Queensland.
"Recent council population data forecasts that by 2041, the Surfers Paradise population will have nearly doubled and it is estimated that, of that, close to 85,900 people will live in high-rise towers," Krishnan said
"Our vision for this project is to create a beautiful slender tower that will bring coastal elegance to Gold Coast while providing a rare opportunity for purchasers to buy a home that prioritises lifestyle, design and location."
The 51-storey slender form tower would comprise 280 apartments on the 3100sq m block that fronts the Northcliffe Light Rail Station.
MRCB International will begin building in the third quarter of next year with the project scheduled for completion in 2026.
Article source: Queensland Property Investor
http://redcliffepropertymanagement.com/wp-content/uploads/2019/04/REDCLIFFE-PROPERTY-MANAGEMENT-LOGO-300x82.png
0
0
redlandspro
http://redcliffepropertymanagement.com/wp-content/uploads/2019/04/REDCLIFFE-PROPERTY-MANAGEMENT-LOGO-300x82.png
redlandspro
2022-10-01 12:16:14
2022-10-01 12:16:14
Developers Plot Skinny Tower on House-Sized Block