Private Investor Buys Coast Timeshare Tower for $45m
The Voyager Resort has sold the building at Broadbeach's Old Burleigh Road on the central Gold Coast to a private investor for $45 million.
The listing and sale of the 2070sq m 60-unit property at 167 Old Burleigh Road came after four years of negotiating with about 3000 timeshare holders.
The resort's directors applied to the Supreme Court in 2021 for three statutory trustees to be appointed to handle the sale on the behalf of the timeshare holders after a survey carried out in 2019 showed that there was significant interest in selling the property.
Adam and Tony Grbcic of Kollosche handled a five-week-long expressions of interest campaign that generated 155 enquiries and 25 cash offers.
"About 80 per cent of the enquiry was local including a mix of high-net-worth investors looking for land-bank opportunities, developers wanting key sites for this property cycle or future cycles and hotel operators," Adam Grbcic said.
"There was heated competition for this site because it can't be replaced."
The private investor who bought the property has not disclosed any plans.
The property would cost $5 million to demolish and has a net holding income of $1 million a year if held permanently as short stay or rental accommodation.
The net holding income would be higher and more lucrative if the property was managed as a hotel.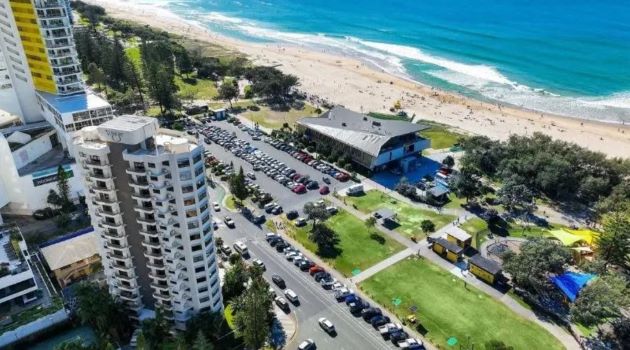 Documents made public by The Voyager Resort company show that it intended to sell the property, divide the net proceeds of the sale between the timeshare owners according to independent valuation of the units they held and then wind up the company.
The company would then distribute all other funds to its shareholders.
Several timeshare holders on the company's lists were delinquent or uncontactable, some for decades, owing tens of thousands in unpaid fees and contributions.
The company in 2000 decided to establish a policy of buying back timeshares from holders no longer interested in participating in the scheme.
It then held these shares until 2021 when legal advice stated that it could not hold shares in itself and proceeded to cancel them.
Kollosche also recently sold the El Dorado boutique apartment block for $4.47 million.
The 654sq m property at 173-175 Surf Parade in Broadbeach is 250m from the beach and has six units.
It was bought by an interstate buyer after an expressions of interest campaign handled by John and Nicole Mayer of Kollosche New Projects with Kollosche Commercial.
Around 107 enquiries were received during the campaign.
The new owner has plans to use the building for short-stay accommodation.
Article source: Queensland Property Investor
http://redcliffepropertymanagement.com/wp-content/uploads/2019/04/REDCLIFFE-PROPERTY-MANAGEMENT-LOGO-300x82.png
0
0
redlandspro
http://redcliffepropertymanagement.com/wp-content/uploads/2019/04/REDCLIFFE-PROPERTY-MANAGEMENT-LOGO-300x82.png
redlandspro
2022-09-26 03:08:32
2022-09-26 03:08:32
Private Investor Buys Coast Timeshare Tower for $45m