Site Buy Prompts New $400m Burleigh Tower Plan
Veteran developer David Devine has shelved plans for a Gold Coast apartment tower after acquiring an adjoining property, giving him the chance at a more ambitious development with a price tag nearly four times that of the first.
Devine's DD Living has filed a development application for a $400-million luxury residential apartment tower in North Burleigh, replacing plans for his $105-million Alba Residences, greenlit just eight months ago.
DD Living wants to build a completely new development with bigger apartments and more facilities after acquiring the neighbouring 1012sq m site. With the purchase he doubled the footprint of the Burleigh Heads beachfront site.
"It's not easy to amalgamate sites on The Esplanade, but when you do, it delivers a better result for both the apartment purchaser and the Gold Coast community as a whole," the DD Living chief executive said.
"When the opportunity presents itself, you need to grab it with both hands.
"With the 40m frontage of the combined site, we are now able to provide a wider building separation between this and neighbouring buildings, as well as delivering significantly more landscaping at street level."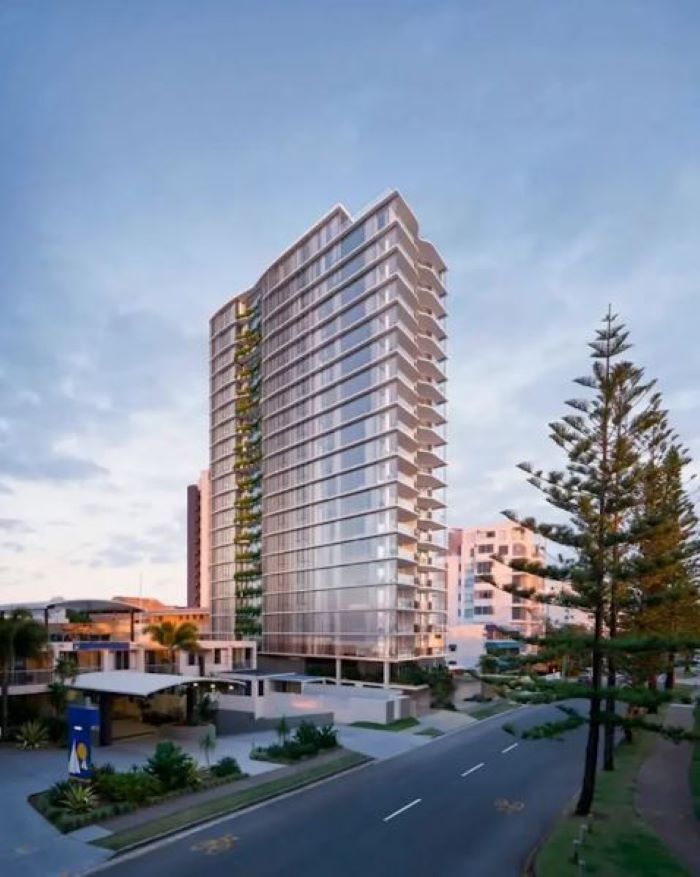 To be known as Burly, the new development is designed by award-winning Koichi Takada Architects.
The 24-storey tower, across the road from the North Burleigh Surf Life Saving Club, will comprise 100 two, three and four-bedroom apartments, as well as a penthouse.
Alba Residences was to have begun construction last month after DD Living secured development approval for the 19-level project earlier this year.
That design was scaled back from 21 storeys to 19 after local objections to the proposal were made to Gold Coast City Council.
Devine said his team looked forward to working with Gold Coast on the Burly development application.
"We are making the most of this opportunity with a new architectural design that improves the residential offering, which is only possible now after doubling the space we originally had," he said.
Devine is betting big on the heat remaining in the Gold Coast property market.
Hutchinson Builders have begun work on another DD Living development—the residential apartment building known as Royale Gold Coast, in Northcliffe Terrace in Surfers Paradise.
Article source: Queensland Property Investor
http://redcliffepropertymanagement.com/wp-content/uploads/2019/04/REDCLIFFE-PROPERTY-MANAGEMENT-LOGO-300x82.png
0
0
redlandspro
http://redcliffepropertymanagement.com/wp-content/uploads/2019/04/REDCLIFFE-PROPERTY-MANAGEMENT-LOGO-300x82.png
redlandspro
2022-10-05 03:43:27
2022-10-05 03:43:27
Site Buy Prompts New $400m Burleigh Tower Plan