Stockland Brings Dino Landmark to Sunshine Coast
Aura by Stockland is quickly becoming a shining example of how to exceed expectations with a community play area in Queensland. Aura's new dinosaur-themed playground is ingeniously designed by KOMPAN Australia and is already a hit with families living inside and outside the development.
At a Glance
Project: Aurasaurus Playground, Nirimba, Queensland
Delivered to: Aura by Stockland
Featured items: Custom dinosaur play structure, wooden dinosaur egg, swings, sand pit and relaxation zone
Client: Stockland
Landscape Architect: Place Design Group
Playground Design: Urban Play
Custom Structure Design and Supply: KOMPAN Design Studio
Contracted Design and Construction: Eureka Landscapes
Photography: Stockland
Aura by Stockland is already known for its fantastic community parks, including the iconic Treehouse and adorable Frog play areas.
Now, a new playground is open to residents of the development—the Aurasaurus park.
Utilising a classic and beloved dinosaur theme, the play area features a one-of-a-kind dinosaur structure by KOMPAN, an accompanying custom wood dinosaur egg, swings, a relaxation zone with hammocks and day beds, a barbecue area and plenty of shade, open-field areas and tables.
Children are instantly attracted to the bright colours and immersive story of the dinosaur, which uses custom HDPE panels and, for the head, a Corocord play net with climbing and sensory elements for the body, and a thrilling slide for the tail.
The spine that connects the structure is a rubber bridgeway and the spikes that sit atop the structural posts use dichroic panels to reflect the light and cast colourful shadows across the sand softfall below.
The theme continues with rubber mound feet, a toddler's play area in the form of a wooden dino egg and signs that immerse children in a world of archaeology and prehistoric wonder.
A path network caters to kids with bikes and scooters, and parents and older children can relax in one of the many covered tables or hammocks.
The play area is no doubt a visual landmark, adding another jewel to the crown of Aura's standout community spaces.
But play value was also prioritised for the site, with consideration given to the children's development and growth as they play on the equipment.
Like their catalogue items, KOMPAN's custom pieces are designed with the experience and knowledge of play experts and academics at the KOMPAN Play Institute.
Each element of a design is carefully placed to activate and nurture children's physical, cognitive, creative and social-emotional development.
The play net invites children to climb into the belly of the beast, developing their muscles and discovering the visually stimulating panels and tactile hand holds.
The rubber bridge feels bouncy under foot, promoting balance and hand-eye coordination as they venture higher and higher.
The dinosaur head and egg inspire dramatic scenes of discovery and surprise, motivating cooperative play and imaginative storytelling.
Swings and slides thrill and spark joy while encouraging turn-taking and communication with friends and family.
When energy is low, hammocks and low-level nooks of the dinosaur belly offer places to recharge, socialise and develop connections with others.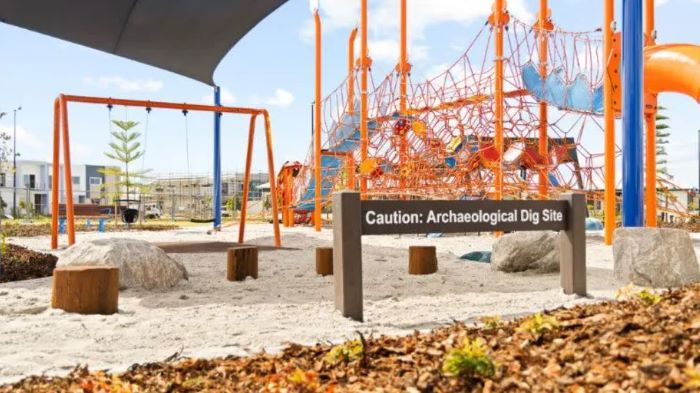 The park has already been successful with locals of the Aura community who appreciate the play facilities' diverse age range, attention-to-detail and ample parental areas.
Reports of families visiting the playground from around Queensland during the recent school holidays proves that when a site uses a beloved theme, an experienced team of custom play experts and equipment grounded in researched play theory, the result is a landmark space that will benefit the development for decades to come.
Article source: Queensland Property Investor
Did you miss our previous article…
https://redcliffepropertymanagement.com/6-ways-a-good-lawyer-can-help-every-property-investor/
http://redcliffepropertymanagement.com/wp-content/uploads/2019/04/REDCLIFFE-PROPERTY-MANAGEMENT-LOGO-300x82.png
0
0
redlandspro
http://redcliffepropertymanagement.com/wp-content/uploads/2019/04/REDCLIFFE-PROPERTY-MANAGEMENT-LOGO-300x82.png
redlandspro
2022-10-04 00:23:45
2022-10-04 00:23:45
Stockland Brings Dino Landmark to Sunshine Coast