Troubled Developer's Gold Coast Sites Hit Market
Worldwide real estate giant Colliers International is brokering a development-ready land package within the Gold Coast's Queen Street Village precinct, just days after it was announced the previous owner had gone into administration.
The three adjoining lots totalling 5400sq m have preliminary approval for a 12-storey apartment building, a 160-key hotel as well as purpose-built student accommodation.
Colliers describe the landholding, at the corner of Nerang and Queen streets, as one of the biggest development opportunities in the Gold Coast's centre in many years.
The property comes to market via an expression of interest campaign and follows news late last week that Nerang Street Pty Ltd—the developer behind the $500-million masterplanned transformation of the Southport centre—had gone into administration, reportedly owing more than $80 million.
Robson Cotter Insolvency Group, in a report to creditors, said the company had succumbed to "a change in property market valuations, inability to meet funding arrangements and prior to that the general impact of the Covid-19 pandemic".
Colliers is offering the lots either individually, or in line as a single property.
"They each have their own title, and each has preliminary approval for a particular development," Colliers development site director Troy Linnane said. "So we will be looking at all offers and present them to our client."
Lot Seven, covering 1787sq m, has preliminary approval for a 12-storey apartment building with 52 units, including a rooftop terrace. Lot Eight, of 2414sq m, is approved for a 480-bed purpose-built student accommodation facility.
Lot Nine on Nerang Street and covering 1200sq m has a development permit for a 14-storey hotel with 160 suites and a rooftop terrace.
"I think student accommodation operators will be all over this given it's on the train line or the light rail line and Griffith University and the Gold Coast University Hospital are only two stops away," Linnane told The Urban Developer.
"I think there will be a lot of interest.
"The size of the site, the existing development, infrastructure credits, it's on the light rail between the entertainment precincts and the education and health precincts of the coast, and there's already a pre-existing stage one that's been completed."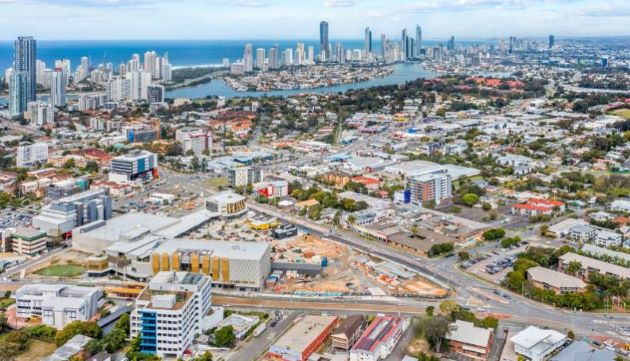 The sites are within the Southport Priority Development Area, which allows for multiple uses without height restrictions. The existing approvals will remain in place until March 2026.
The first stage of the Queen Street Village mixed-use development delivered a Supa IGA supermarket, Dendy Cinemas and a range of speciality retail tenancies.
Revamped plans for a $120-million, two-tower vertical retirement village and aged-care facility also were recently given the green light for the site.
Comprising towers of 19 storeys and 30 storeys the retirement village will be the biggest vertically integrated project to be undertaken to date by not-for-profit residential aged-care operator Bolton Clarke.
The development property also provides access to Surfers Paradise and Broadbeach, including The Star Casino and Pacific Fair Shopping Centre, to the south.
"The corner location offers a high level of exposure to both Nerang and Queen streets for any proposed development," Linnane said.
"The three lots also benefit from multimillion-dollar expenditure in development works that have already been completed to date for the Queens Street Village development, and they also carry applicable infrastructure credits."
The three sites have a combined $1.2 million in infrastructure credit currently allocated to them.
The expressions of interest campaign will close on October 27.
Elsewhere, Nerang Street creditors will meet with Robson Cotter Insolvency Group at the end of this month to receive a report about the state of the business, property, affairs and the financial circumstances of the company.
A decision will then be taken on whether Nerang Street should be wound up.
Article source: Queensland Property Investor
http://redcliffepropertymanagement.com/wp-content/uploads/2019/04/REDCLIFFE-PROPERTY-MANAGEMENT-LOGO-300x82.png
0
0
redlandspro
http://redcliffepropertymanagement.com/wp-content/uploads/2019/04/REDCLIFFE-PROPERTY-MANAGEMENT-LOGO-300x82.png
redlandspro
2022-09-21 03:35:59
2022-09-21 03:35:59
Troubled Developer's Gold Coast Sites Hit Market